The Home Buyer's Guide: 7 Crucial Steps to Buy Your Dream Home
Whether you are buying your first home, or have bought before, the principles of purchasing a home are relatively the same.
With rising rents fueled by high demand for housing, it makes more financial sense than ever to start paying your own mortgage payment instead of someone else's! Not to mention the other perks of home ownership you would enjoy such as tax breaks, equity appreciation and locking in your housing payment with the current low fixed interest rates.
But buying a home, which can be be your biggest investment – and debt, needs to be approached systematically for an outcome you and your family will be happy with for years to come!
The following are in order of importance, and should be implemented step-by-step:
1. How Much Home Can I

Afford

?
Unless you are paying cash for your home and have access to unlimited funds, you will need to know how much you can afford and still maintain your other monthly obligations and the standard of living you want to maintain. There is no sense browsing the internet for days, weeks or even months looking for homes, if you don't even know how much house you can afford or how much of a bank loan you can get to purchase a home.
The first thing you want to do is contact your bank or a mortgage lender and have them review your credit, income, cash in bank and issue a Pre-Approval Letter. This is different than a simple Pre-Qualification letter, and will outline exactly how much house you can buy, with your current financial and credit situation. You will need to give a copy of this letter to your Realtor, so they know exactly what price point of homes to search for and to submit with your offer when the time comes.
Updating the Pre-Approval letter is quite simple. All the lender usually needs is updated credit, pay stubs and bank statements.
At this point, you should also give thought to what city or area you want to live in.
2. Work with a Realtor You are

Comfortable

With
There is much speculation about whether you need a Realtor. Let's clarify why you should have one: Their services to you are Free! That's right. They get paid by the Home seller, if the escrow closes. Why wouldn't you want a professional who knows the area, prices, homes better than you and has access to every home listed for sale in the Multiple Listing Service? Not to mention their expertise at negotiating the best deal and overseeing your entire transaction from start to finish? You can browse online sites all you want, but the truth of the matter is that your Realtor will help you find your "dream home" much faster than you would on your own.
Work with a Realtor you're comfortable with and whose territory covers the city or areas you want to buy a home in. Buying a home is a process, which can last several months and having a good business relationship will reduce much of the stress and anxiety involved in the home buying process!
Choose the Realtor you feel understands your needs and their actions show it. They should be professional and responsive to your phone calls, texts and emails within a reasonable time. They shouldn't just tell you what you want to hear, but what they feel is important for you to know. At the end of the day, they are people too and many experienced Real Estate Agents are interviewing you as much as you are interviewing them.
A comfortable, honest and respectful relationship is crucial between you and your Realtor.
3. Define the

Areas

You Want To Live In and Your

Must-Haves
Now that you know how much house to look for, and have found a Realtor you are comfortable to work with, it's time to get into the details of your home search.
What areas/cities do you want to live in? If prices are too high in those areas, what other areas will you consider? Are stairs an issue? Particular schools you want your children to attend and other details. These are things you will discuss in detail with your Realtor, and they will set up a search based on your criteria and start house hunting the MLS for you.
Be reasonable and make sure you are prepared to make concessions, if some homes fall short on some of the items you would like to have. At the end of the day, when you walk in a home you must be able to see yourself living there and loving it!
Most people are too paranoid about over-paying for homes! The truth is that if you're financing the purchase, the bank will order an appraisal and that house will have to appraise. If it doesn't, you can either walk away from the deal, or the seller reduces the price or you pay them the difference in cash, if you really want that home.
4. View Homes and Find

THE ONE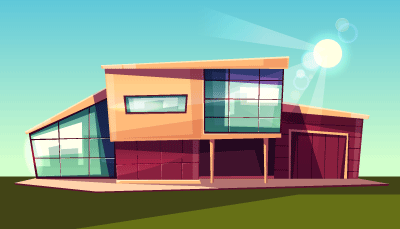 This can be the most fun part of the process, but it can also be exhausting. On average homeowners view approximately 10 homes, before they choose the one they want to submit an offer on. Now some might find their home in the first few showings and others are still looking after 20! If you haven't found a home you like after having seen 10, it might be time to take another look at your wants and see if they are reasonable for the amount of house you have been approved for!
Distinguish between "must-haves" and "like-to-haves", to make your home search a happy one.
5. Make an

Offer
When you have found the home you would like to buy, it's time to make an offer. When using a Realtor, your offer is made on the Standard CAR (California Association of Realtors) form. If you really want that home, be realistic on your offer price, Low balling a seller can end up with you losing the home to another buyer who is willing to pay Fair market price.
Your Realtor should review the offer and all the clauses with you and explain each one. After you have reviewed it for accuracy, sign and date it. Then your Realtor will submit it to seller or their representative, the listing agent.
At this point, the seller has several days to accept your offer, reject it or counter it to initiate the negotiation process. Successive counter-offers, with deadlines for responding and meeting conditions may be exchanged between you and the seller, until a mutual pending agreement is reached or negotiations break down.
Negotiations involve many factors specifically relating to different market conditions, home and sellers, and other variables that your Realtor can handle with ease.
6. Secure Your

Financing
Once you have a pending agreement, and escrow is opened, it's time to return to your chosen lender and finalize the mortgage details in order to close the deal! This means finalizing your down payment, interest rate, and other conditions of the loan approval. Your lender will also order the appraisal at this point. Your Realtor will coordinate all necessary inspections and work hand in hand with escrow, title and the seller or their representative to ensure a smooth closing.
7.

Close

the Deal
At this point all loan conditions have been satisfied, down payment has been transferred to escrow, all inspections have been done and are satisfactory. You will have a final walk through to make sure the home is in the same condition as when you signed the sales agreement. Oh, and one more thing – you'll get the keys! Congratulations! You are now officially a Homeowner!

Is This The Right Market For
You

To Buy?
Call 1-714-612-3930 Now
and Get Your FREE MARKET BUYER ANALYSIS!
Contact Now…
Sorry we are experiencing system issues. Please try again.
* We do not rent, sell or share any personal information collected with third parties.